A youthful Ugandan female social entrepreneur has been awarded with the Commonwealth Points of Light Award for her outstanding work in creating change in the lives of vulnerable children.
Esther Kalenzi, 24, is the founder of '40 Days over 40 Smiles' (40-40), a youth led organisation which has raised over USD 150,000 to give 2,000 vulnerable children access to education through career guidance, counselling, and study sessions.
Esther was recognized for having led an innovative literacy project after realising that the Ugandan children she taught were not reading books that reflected their own experiences.
'40 Days over 40 Smiles' has also created four short story books, with contributions from 16 local volunteer writers, which featured local people and their stories. These books were handed to 1,000 disadvantaged primary school pupils across four regions of Uganda.
Esther was handed the prestigious Award on Wednesday by Peter West, the UK High Commissioner in Uganda.
Signed by Her Majesty the Queen of England, Elizabeth II, the Certificate citation read; "In recognition of tour exceptional service supporting and educating vulnerable children in Uganda, you are presented with the Commonwealth 20th Point of Light award on 28th February 2018″.
The daily Points of Light Award which was established in 1990 recognises outstanding individual volunteers – people who are making a change in their community. Every week day, the UK Prime Minister recognises an inspirational volunteer with the award.
Since then hundreds of volunteers from the 53 Commonwealth countries have been named Points of Light by the Queen of England as the Head of Commonwealth, for the difference they are making in their communities and beyond.
In appreciation of the recognition Esther Kalenzi said; "This award came as an absolute surprise for me. I got a call on a day when I was stuck in bed, during a particularly trying time. I thought it was a dream, too good to be true. I am extremely excited, still in a daze really".
She said it was an honour and that she hoped it would inspire the 40-40 team of volunteers and its support system to continue sacrificing and going the extra mile for the Ugandan children.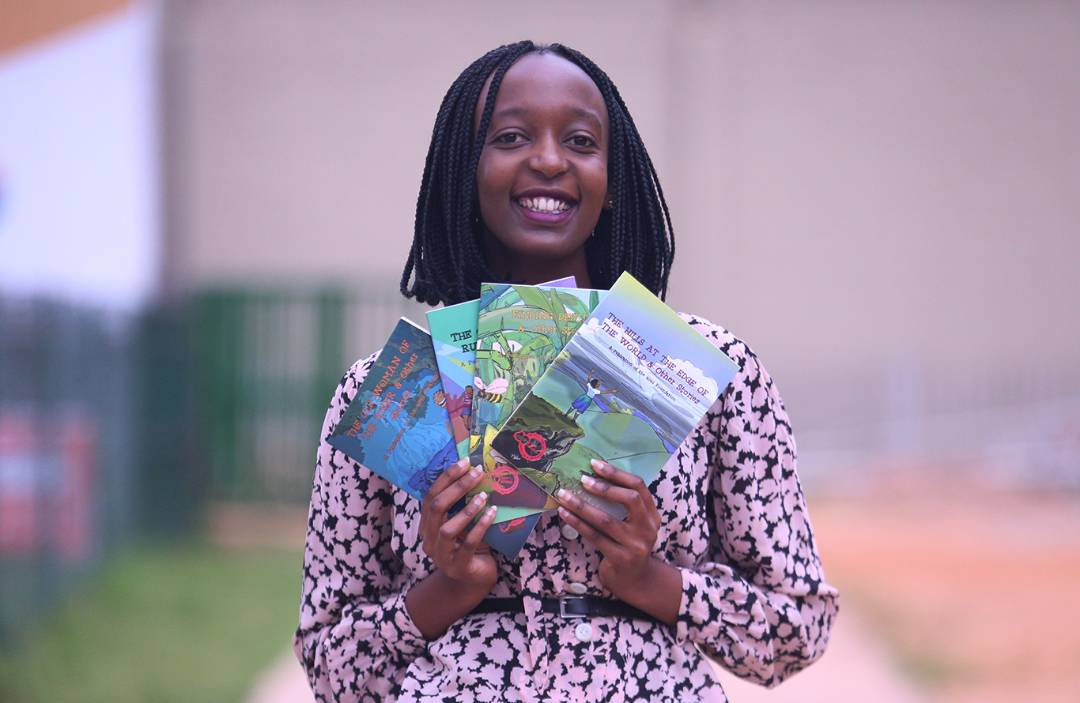 "In a special way, I would really like to thank my family, friends, my team and everyone who has supported '40-40′ since inception. They have given me the strength to carry on. Volunteering is no easy feat. It requires a lot of patience and dedication yet it is often a thankless job," she said.
"I believe that everyone can leverage their networks to make a positive difference in their community. Together with my team, I find people who are willing to share their time, skills and resources which we then use to transform the lives of vulnerable children," Kalenzi added.
Describing what it takes to get the project where it is today, Esther said it wasn't easy and sometimes requires literally dragging herself out of bed to keep trying. "But, I know that the world won't change itself if I simply sit back and complain without playing my part towards transformation".
Peter West, UK High Commissioner in Uganda commended Kalenzi for touching the lives of the unfortunate children.
"I am delighted to present Esther this award for her work at '40 Days Over 40 Smiles Foundation'. Her work touches the lives of so many less fortunate children and makes her a worthy recipient of this Points of Light Award," Ambassador West said.
Kalenzi and other recipients of the Award will during the Commonwealth leaders meeting this April in London be recognised for their contribution to global challenges through fundraising, awareness-raising and problem solving activities.