The World Food Programme (WFP), United Nations Capital Development Fund (UNCDF), and PHB Development have launched a financial literacy training toolkit customized to meet the needs and realities of refugees and refugee hosting communities in Uganda.
The toolkit which was launched on Thursday during a webinar to improve resilience and self-reliance of refugees and ensure that they are better equipped to make sound financial decisions, effectively interact with financial service providers and achieve their financial goals. 
It was created using a human-centered design approach and uses a delivery mechanism that is relevant to their daily lives and livelihoods.
During the launch, Kristina Jervell, an Associate at PHB Development explained that the human centered design is a creative problem solving method that puts users (refugees) at the centre of the process.
In designing the toolkit, the goal was to develop a self sufficient solution, establish what is essential for the refugees to improve their situation, a universal product that can be used in different settlements as an open source product, and to involve the refugees themselves since nobody knows their challenges better.
The training is a 5-week course that participants undertake twice a week for 4 hours. It is divided into a Foundation and Advanced course. The toolkit was developed in 3 languages – Kiswahili, English and Kinyabwisha. 
Contents of the course include; basics on financial literacy, savings, personal finance management, financial services, family budget, running a business, goals and savings, daily cash flow tracking, income and expenses, planning a business and important factors to consider when choosing a lender.
"The toolkit can be used beyond the refugee settings. Although it's specific to the refugee context, it will continue to evolve. And it's about basic of financial literacy which anybody can benefit from," Kristina said.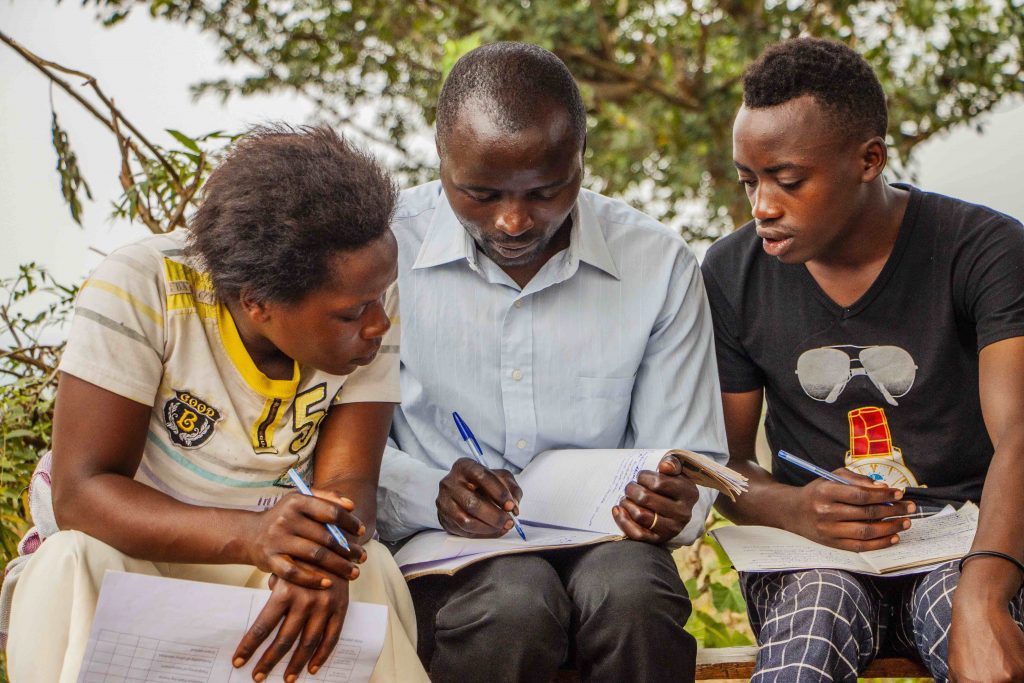 At least 2 people from each household in the refugee settlements will be participating in the training. 
Testing of the content was piloted in the three refugee settlements of Nakivale, Kiryandongo and Rwamwanja between July and September 2019 and 60 participants took part. The second pilot of the training which took place between October 2019 and January this year involved 1,800 participants in the same 3 refugee settlements. 
On the impact, Kristina said the project chose to focus on a small number of participants so they achieve quality rather than quantity. And that this has proved helpful.
"We had someone who said he used to have tea everyday and he realized he could have it once in a few weeks and he was able to save some money. It sounds insignificant but it's important because small habits can create a bigger change over time. Also, it helps those (refugees) with one foot here and one foot here to set bigger goals rather than be in limbo and not see where their lives are going," she said.
Richard Ndahiro, a UNCDF expert on inclusive digital economy said the project will help in realizing financial inclusion using digital means to the underserved.
He said that previously (2017), UNCDF has partnered with Airtel Uganda, Mercy Corps and Dun Church Aid to use mobile money payments to support refugees. In 2018/19, Equity Bank and WFP rolled out a project through which agent banking in refugee settlements which has seen refugees set up fully fledged financial accounts. 
"We need to focus on not just the right products and services for refugees or Mobile Money/agency banking but building their capacity to understand and make sound financial choices. That's how the financial literacy program kicked off. WFP wanted to educate their clients because cash was being delivered on their accounts," Ndahiro said.
He said the financial literacy training toolkit will help in ensuring refugees adapt financial literacy. By looking at what's available within the settlements without importing so much, he said, this will allow for self sustainability of the training.
Alex Ochan, the Head of Financial Inclusion Division at Bank of Uganda said that financial literacy in Uganda in 2017 increased to 24% from 18% but that gaps still remain especially in special interest groups. Other challenges include Challenges – limited human and financial resources to implement some plans as well as ineffective coordination.
He said the toolkit will address the main underserved areas – rural refugees and special interest groups. He cited a recent study by Financial Sector Deepening Uganda (FSDU) which indicated that that half of Ugandan adults could not be able to sustain their lifestyle even with one day of lockdown, due to the absence of liquid savings.
"BOU is open to collaborate in implementation. We have 1,800 trainers and this is a resource you can tap into without necessarily starting from scratch," Ochan said.