This week, a group of Ugandan tour operators raised alarm after failing to secure Visas to travel to South Africa to sell Uganda's tourism at the 2019 Travel Indaba, Africa's biggest travel trade expo.
The concern ruffled feathers even within government circles, understandably so, at a time when the country is investing heavily in marketing its tourism, Uganda's biggest source of foreign revenue, to the world.
Amos Wekesa, the proprietor of Great Lakes Safaris, whose staff (planning to attend Indaba) had also been denied the Visa took to Facebook to vent his anger towards the South African High Commission in Uganda. He said it was an economic sabotage by South Africa which continues to reap big from Uganda through S.African companies doing business in Uganda yet the same is not true for Uganda.
In the same post, he proposed that Ugandans boycott South African companies like MTN Uganda, Stanbic bank, Eskom, Shoprite among others that operate in the country as well as for government to enforce terms as strict as those by South Africa, for their nationals to acquire a Ugandan visa.
The post attracted numerous comments, many highlighting the fact that the problem (of denial of South African Visas) is not new neither is it restricted to just tour operators but ordinary Ugandans traveling to South Africa. It is an issue most government officials have commented on in the past, but nothing has changed.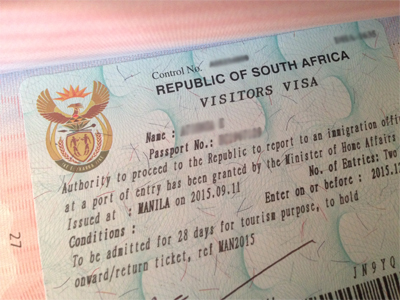 Whereas some people on Facebook downplayed the significance of the latest incident, Wekesa explains that it has far reaching implications for Uganda as a whole as well as the country's place in global trade.
"On Tuesday, a number of tour operators called me saying they're stuck, they didn't know what to do. At first, I said to myself 'i think I have no solution here'. That's when I decided to post on Facebook," Wekesa told some reporters at the Great Lakes Safaris offices in Kampala on Thursday.
He said the incident carries several lessons regarding Uganda's involvement in global trade.
"Ugandans are struggling with poverty because we are not trading with the rest of the world. Visa is the biggest non-tariff barrier this country has got," he said.
"If I'm an English person and I'm dealing in tourism, I simply wake up go to another country, do business and go to another country. But in my case, a Ugandan businessman, you are tying me up and telling me to compete".
He says it is disturbing that South African companies make about USD 600m in Uganda annually but Ugandan businesses get stiffled to tap into the South African market.
"How many Ugandan companies are operating in South Africa? In our case, the lowest hanging fruit would be tourism. How many South Africans visit Uganda? Instead we are more concerned with how many Ugandans are flying to South Africa".
About 33,000 to 35,000 Ugandans go to S.Africa as tourists annually and each of these spends USD 2,000 on average, he said.
Why is Indaba important?
Wekesa ranks the Travel Indaba held in South Africa every year as the most important international travel expo after ITB which is held in Berlin Germany and World Travel Market (WTM) held in London.
Wekesa says Indaba is especially the most significant trade fair for any tour operator who is doing business in Africa. When international travel wholesalers like Thomas Cook come to Indaba, they only focus on selling Africa.
"So anyone who positions themselves there (at the Indaba expo) is going to tap into business. For South Africa, every province is represented individually and they are doing business".
"For us as Uganda, we also tag along with South Africa, to make sure we fight for business. If we don't appear there, it means we are going to lose business".
In further explaining the significance of Indaba to a Ugandan tour operator compared to say ITB or WTM, Wekesa says the wholesalers who bring business to Africa dedicate more time to African destinations, at the Durban expo.
"If I'm an American tour operator (wholesaler) and I go to ITB, I'm looking for a guy selling Myanmar, Spain, Equador, so I have very little time to sit and discuss with you a particular destination called Uganda," Wekesa shares.
He says that on average, a meeting (between tour operators) to pitch a destination in Africa will last 10 to 20 minutes at ITB as compared to Indaba where such a meeting will last in the range of 30 minutes to an hour.
"You have more time. But at the same time, you have an opportunity to meet these guys (wholesalers) while they are hanging in the evening. Over a drink, you'll exchange cards. The next day, you'll also hangout with another group and do business".
He says that Indaba is a very significant platform to the extent that missing out a mere day could cost you ten potential clients.
However, the failure by Ugandan tour operators to secure Visas (from the South African embassy) does not only deprive them of potential business at the expo. It also comes with hefty cost implications.
Wekesa shares that to exhibit at Indaba costs Great Lakes Safaris £3,500 for a stall (if you are exhibiting under African Tours and Travel Association), in addition to USD 1,000 for accommodation, USD 700 on a ticket, which comes to about £5,000. And the accommodation fees as well as booking the stands, are paid in advance.
Luckily for Great Lakes Safaris, a day later, they managed to acquire the Visa.
"So we were going to lose about Shs 20m to South African businesses. But because we got the Visa today, now that the fair began today, it means we have lost this day. And we've missed about 10 appointments of very good business which is extremely very sad".
"But the cry is not just tourism. It's about how they are treating Ugandans".
He argues that by failing to place the same stringent conditions on South Africans traveling to Uganda, the Ugandan government has done a disservice to the citizens.
"How can people be making over USD 600m every year, and you are giving them softer conditions? No! Whatever conditions they give us, the government should do the same because they benefit more than we benefit from them".
When these tourists are finally drawn to Uganda by the private tour operators, Wekesa explains, government too benefits in terms of taxes. This is in addition to the numerous other players (transporters, telecos, farmers, accommodation facilities, security, restaurants, tour guides artists who sale artefacts) along the value chain that give services to tourists.
A similar observation on the issue was made by Richard Kawere, the technical director of Uganda Tourism Association (UTA) who termed it as disheartening.
"Hearing about the denial of Visas to the tourism fraternity to go and exhibit and carry out business in South Africa was so disheartening. This isn't the first time it is happening. It happened last year. We have had three meetings with the South African High Commission, but we have not had good results," Kawere said on Thursday.
"We want to send a strong message to our counterparts in South Africa that this is counterproductive and does not demonstrate reciprocity that Uganda has given South Africa from the time of Apartheid".
He said that not everyone going to South Africa is going there to stay. "People are going to do business. When South Africans come to take part in our exhibitions, they are coming to do business".
He says an expo like Indaba attracts many countries across the world which means it is a unique opportunity with immenae potential for business.
"South Africa is one of the leading economies in Africa. When there is a trade show in South Africa, many travel traders from potential source markets are there. So it is easy and cheaper for Ugandans to tap into this trade. When you deny them Visas, then you are denying them an opportunity," Kawere said.
Uganda and global trade
Amos Wekesa says the debate shouldn't just be about South Africa but all other countries where Uganda has an embassy. He says government should secure opportunities for the business community.
He also commented on what he termed as Uganda's skewed way of looking at trade especially on the global scale. Wekesa expressed disappointment that the President has not effectively incorporated the private sector business community in his foreign trips as some regional Heads of State do.
"Uganda will go and rescue South Sudan, Congo, Burundi and Somalia from challenges. When the President of Uganda is visiting South Sudan, he will go with an army commander and other people who won't bring business," he shared.
"But when the President of Kenya is going to a country he has not rescued, the whole plane is full of business people. He's opening routes for the airline, asking for hotels to be set up… etc".
"Here (Uganda), you are going with people who have completely nothing to contribute to the growth of the nation. And you are going there to give speeches and come back. And you are using tax payers' money. No! I think the President should change how he looks at these things".
And even ahead of such trips, Wekesa adds, it is important that the Ugandan private sector briefs the President on where their interests lie. That way, he (President), he is appraised with the key talking points during the bilateral discussions that are of mutual benefit.