Uganda Registration Service Bureau (URSB) has awarded top female Ugandans that have done exceptional work in the field of innovation and creativity.
The awards followed a celebration to mark the World Intellectual Property Day, held at Kampala Serena Hotel under the theme of 'Powering change: women in Innovation and creativity'.
With a focus on the relevancy of women in innovation, marketability of their products, demand, environmental impact in regards to degradable materials and conservation of natural inhabitants a few nominees led by examples.
The awards committee also considered fashion and design industry with a call to Ugandans to take on and appreciate their locally made Ugandan clothing line. It further looked on the work of female researchers, as well as those in technology and science who have taken the lead to be the next face of Ugandans making a difference.
Organisations promoting women and helping them make impact too were not left out. SoftPower News presents to you the list of USRB award winning Ugandan female innovators to reckon on in 2018.
Products enhancing women health
Eco Smart – Eco pads are locally made products that have contributed to the reduction in school dropout rates of girls. The company donated over 5,000 pads to school children. It has provided an innovative and sustainable solution for women and girls, managing their periods with comfort and dignity.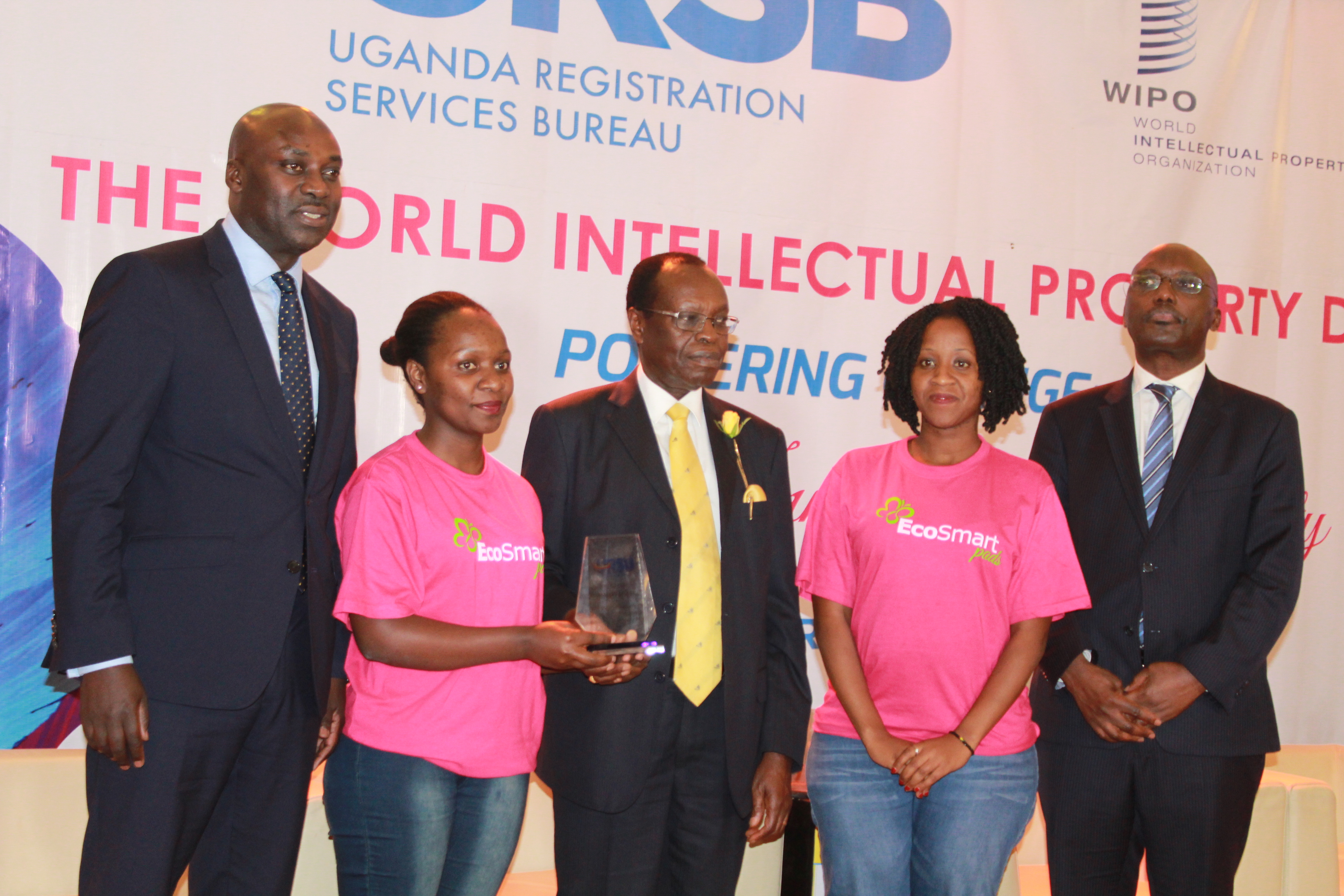 Aloesh Organic – A product by Hajjat Aisha Nakasujja who is also the CEO. She has been recognized as one of the women entrepreneurs and achiever in Uganda. Her herbal and food supplements products have had a positive impact to the lives of people in the community.
Oribags – Oribags provides environmentally friendly materials by recovering easily available agricultural waste like Banana fibres, cotton waste among others waste into an eco-friendly manner transforming them into products (oribags) thus providing new trend of innovation in packaging solution.
Ceative fashion and design
Santa Anzo – She started out professionally as a model with fashion icon, Ziper model and launched her fashion company in 2001. Her contribution in fashion industry sets out a path for new innovation in the field of fashion.
Anita Beryl – Beryl Quoture creative fashion brand has trail blazed in ladies garments particularly innovative styles of bridal gowns. Her fashion brand with focus on haute couture and ready to wear pieces known majorly for bridal wear is one of the recently most sought out fashion design house in Uganda. It also featured in Nigeria fashion week, a hub of great African fashion designers.
Performing arts and film production
Joanita Kawalya – The Afrigo Band singer was recognized for having stood out as not just a musician but also female activist. Her role in music industry inspired many women into a field of performing arts. She made great contribution towards mentoring young women especially through the nabagereka's Ekisakaate initiative.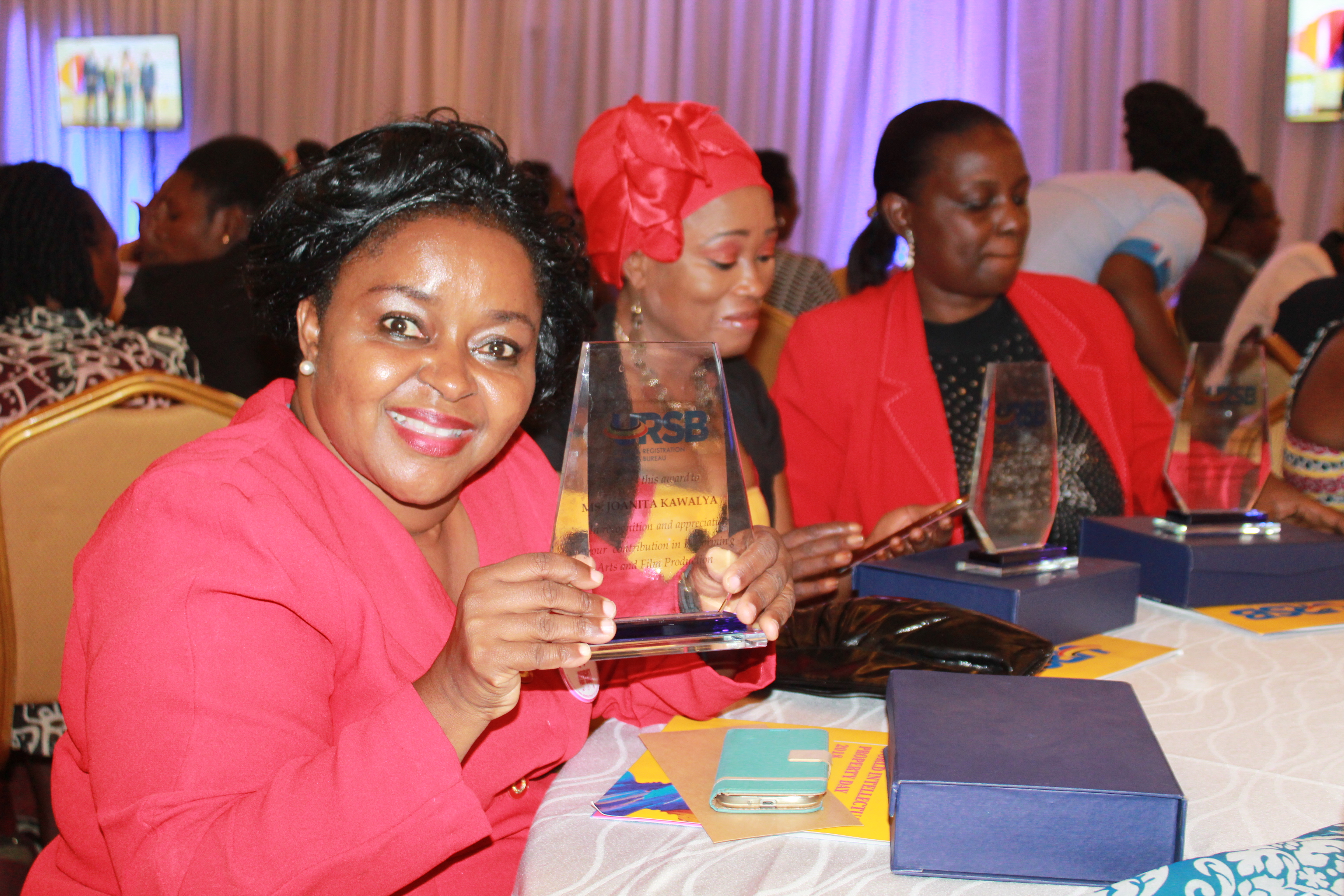 Halima Namakula – The musician, actress, entrepreneur and humanitarian is sometimes referred to as the mother of all artist. She was the first Ugandan female musician to own a radio station and later make efforts into taking sex workers off the streets and rebuilding their lives.
Marian Ndagire – Renowned for her theatre and film acting role, Ndagire has ventured in training young filmmakers through Ndagire and Film and Performing Arts Culture, which holds film workshop for film makers. The singer, playwright, film director and producer was recognized for making a great contribution in building the next generation of Ugandan film makers.
Literary work
Beatrice Lamwaka – Shortlisted for the 2011 Caine Prize for her story "Butterfly Dreams", she too scooped herself an award from URSB. She is the founder and director of Arts Therapy Foundation, a non-profit organisation that provides psychological and emotional support through creative arts therapy.
Glaydah Namukasa – The published writer of 2 novels, 3 children's books and 11 short stories was honored for her literary work as an accomplished national and internationally recognized writer.
Evageline Ledi Barongo – She is one of the leading author of childrens literature and a founding member of the Uganda Children Writers and Illustrators Association. The body is a platform that brings together writers and illustrators of children books, librarians, teachers, publishers and book sellers.
Twongyeirwe Hilda – Since 2007, she has been working with FEMRITE-Uganda Women Writers Association as the Director. She is one of the few women who participated actively in founding FEMRITE in 1995 while still a student at Makerere University. As part of FEMRITE she has initiated writing programs that have seen the growth of Ugandan literature
Medical Science / Innovative Research
AfriGal Tech – Aitaru Rachel Olema and Nanziri Bonita Beatrice developed a noninvasive tool to diagnose sickle cell anemia in patients.
Plilippa Njgajju – Philippa Ngaju Makobore is an electrical engineer and head of the instrumentation division at the Uganda Industrial Research Institute (UIRI). Last year, Makobore's innovation known as Electronically Controlled Gravity Feed Infusion Set ECGF won second place in the 2017 Innovation Prize for Africa. Her innovation in engineering inspires many young women in being creative.
Gudula Naiga Basaza – She was awarded for her organic made made pesticides which are anti-viral, anti-fungal, anti-bacterial and repel insects. She developed the project with grant from Uganda Development Bank.
Organisation / Innovative Business Models
Hope Development Centre – Hope Development Intiative (HDI) is a social entreprise with over 10,000 farmers (80% of them women) engaged in rice farming for rural transformation and poverty allevation in post conflict situation.
UWEAL – Uganda Women Entreprenuers Association Limited (UWEAL) was recognized for its contribution in women's development. Established in 1987, the organization has contined to spearhead the transformation of women in business through assistance and provision of the necessary support such as lobbying for favorable policies.
Special Mention
Eco Stove – Recognised for their role in providing innovative solution to conserve the environment. Eco stoves produce clean cooking technologies, smoke free affordable stoves for the ordinary Woman
MSCAN – URSB recognised the contribution and innovative research in medical field and highly recommends sustainability of many more initiative. In Uganda, 19 mothers in 10,000 women die due to maternal complications. M-SCAN detects intra-uterine risk factors that would lead to death example severe oligohydraminious, umbilical cords, cervical shortening and fatal congenital anomalies such as spina bifida.
Karenz Creation – This innovation creates furniture using old car tyres, promotes reduction of hazardous materials into the environment. KARENZ is appreciated for developing new ways of preserving our environment.