The leader of the National Crime Preventers' Forum in Uganda, Blaise Kamugisha has said that the vigilante group will not relent from rallying support for President Yoweri Museveni and all the other candidates of the ruling National Resistance Movement (NRM).
Kamugisha stated that crime preventers will not allow anybody "to hijack our political rights".
The soft spoken youthful leader of over 11 million crime preventers across the country made the statements on Wednesday while addressing 3,000 district and regional coordinators in Kampala. The assembly was also attended by President Yoweri Museveni.
"We shall continue to strengthen this as a Revolutionary mass movement for young people and we shall support NRM MPs and candidates from the grassroot," Kamugisha said.
"Some people keep saying we are crime preventers and therefore stay away from politics. But we are also civilians. You are not going to hijack our political rights".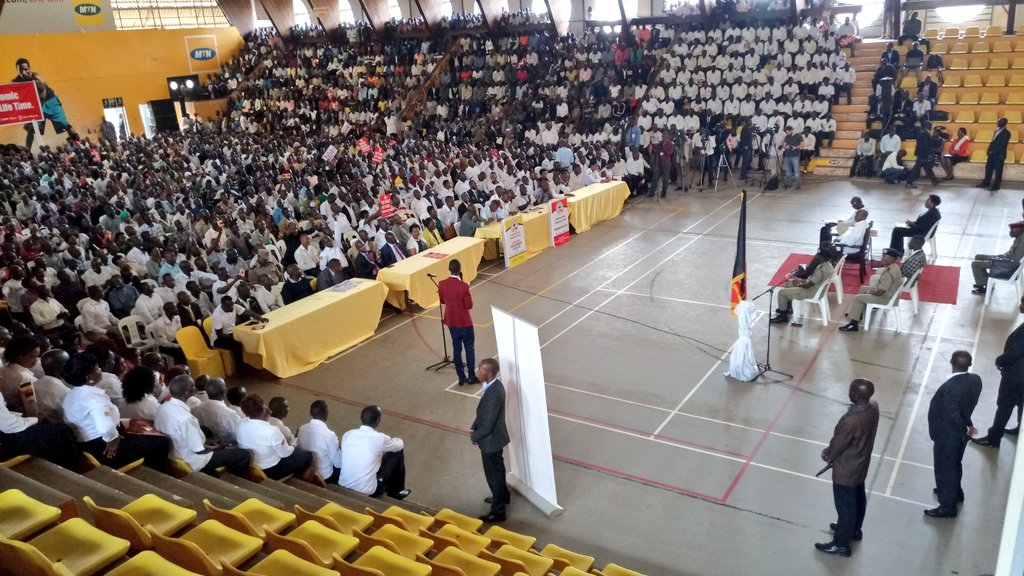 To those offended by this position, Kamugisha said "we are sorry, we shall support the President".
Also Read: Museveni Declares Crime Preventers "Reserve Force", Lauds Kayihura for Being "Loyal Cadre"
He said that fighting crime is a patriotic role which everybody should be responsible for upholding.
"We take it to ourselves to protect the President and help him keep his country safe. A crime preventer can give his life for the President. We can kill for the President," he intimated.
His statement seemed to auger well with the mood at the meeting where the delegates (crime preventers) occasionally sang the NRA liberation songs, praising President Museveni.
In highlighting some of the successes registered by the vigilantes who were recruited by former Police Chief, Gen Kale Kayihura, Kamugisha told the President that crime preventers played an important role in securing the 2016 general elections.
"We protected the votes, voters and also voted. There is hot evidence to prove that. Every election observer, every candidates made reference to the crime preventers. It also came out during the election petition. If we didn't play a role, how then did we feature in all these?".
The leader cautioned his fellow coordinators against betraying the Head of State "because we know him as a friend and we must protect him as our friend".
He said that over the last few years, the network has established a mass patriotic movement with structures from the national to village level.
Despite the negative public image that has bedeviled the group, Kamugisha prides in the fact that they have fought crime and managed to improve the relationship between the public and police.
In the lead up and aftermath of the 2016 Presidential elections, political politicians in the opposition as well as the civil society were critical of the crime preventers whom whom they accused of instigating chaos and intimidating voters.
At one event, the crime preventers were seen dressing in yellow t-shirts which are symbolic of the NRM party. This sparked questions on the partisan nature yet they pupport to work in the interest of every citizen.