Members of Parliament have poured out their tributes to their dead colleague, Arua municipality MP, Ibrahim Abiriga praising him for the rare character of honesty he exhibited.
For the first time ever, Parliament convened on Sunday for a special sitting following the tragic assassination of staunch NRM supporter, Abiriga on Friday. He, together with his bodyguard, Kongo Saidi were shot dead while driving home in Kawanda in Wakiso district at around 6:30pm on Friday.
On Sunday morning, the casket containing the body of Abiriga arrived at the precincts of Parliament at 9am and was received by various MPs. It was later led into the Parliamentary building where it was laid in the central lobby.
After the Speaker of Parliament, Rebecca Kadaga officially convened the House, the casket was moved to the main chamber at 11:05am by members of the Islamic faith and Police.
Inside the chamber, MPs were gripped in somber and grief as many could hardly restrain from shedding tears. As a sign of honouring Abiriga, a good number of legislators donned yellow attire akin to the fallen MP's signature look.
Speaker Kadaga in her opening remarks called on Ugandans to be more vigilant whenever they spot suspicious elements. She also urged security agencies to do more to protect the lives of citizens.
A motion for the resolution of Parliament to pay tribute to Abiriga for his dedicated service to Uganda was moved by Prime Minister Dr Ruhakana Rugunda and seconded by Leader of Opposition, Winfred Kiiza.
One by one, MPs spoke fondly of Abiriga, many describing him as a very honest individual who was not shy to express his unwavering support for the ruling NRM party.
During the session, the issue of the deteriorating security in the country took centre stage in the eulogies by MPs, with some putting government on the spot to release reports on unresolved criminal investigations.
However, others argued that it was time to honour the requests made by security agencies to increase their funding so as to boost their capacity to solve crime.
What they said
Andrew Ajja Baryayanga, the Kabale Municipality MP who represented Independents said Abiriga had "unquestionable loyalty and principles" from the time he joined NRM to his demise.
"He was a household name. He was a yellow man from his car to clothes and utensils; not only words but action. We should emulate this character of loyalty and commitment," Baryayanga said.
He also condemned the politics of intolerance adding that "we can't be a country that assassinates people because of their political beliefs".
FDC's Elijah Okupa of Kasilo county wore a yellow necktie which he said was a symbol of honour to Abiriga.
"Abiriga's death was sad. He was honest and true to his party. During the Age Limit amendments, some were afraid and shy to show their support for the Bill, but Abiriga was true to his word. Not typical of Ugandans and other legislators," Okupa said.
Like many other MPs, he called on government to make a statement to explain the recent brutal killings.
On his part, the Kinkizi East MP, Dr Chris Baryomunsi described Abiriga as having been harmless, innocent and honest.
"If he was killed because of his political opinion, then that reminds us of our occupational hazzards some of which include prison, exile and death. If he was killed to intimidate MPs because of the decisions we make, then we are unshaken. We urge Ugandans to promote tolerance, ideological difference shouldn't be a cause for violence".
The Minister for Education, also First Lady, Janet Museveni condemned the hatred which seems to be targeting individuals for their political leanings and the decisions they make. She observed that some politicians had projected Abiriga in bad light which in turn might have caused bad elements in society to cause harm on him.
"This poison spills over as larva from volcano and destroys everything in its way. That's how we get people who didn't know Abiriga in person but knew him in yellow, the party he served. And they became inspired to kill him because of that," Minister Janet Museveni said.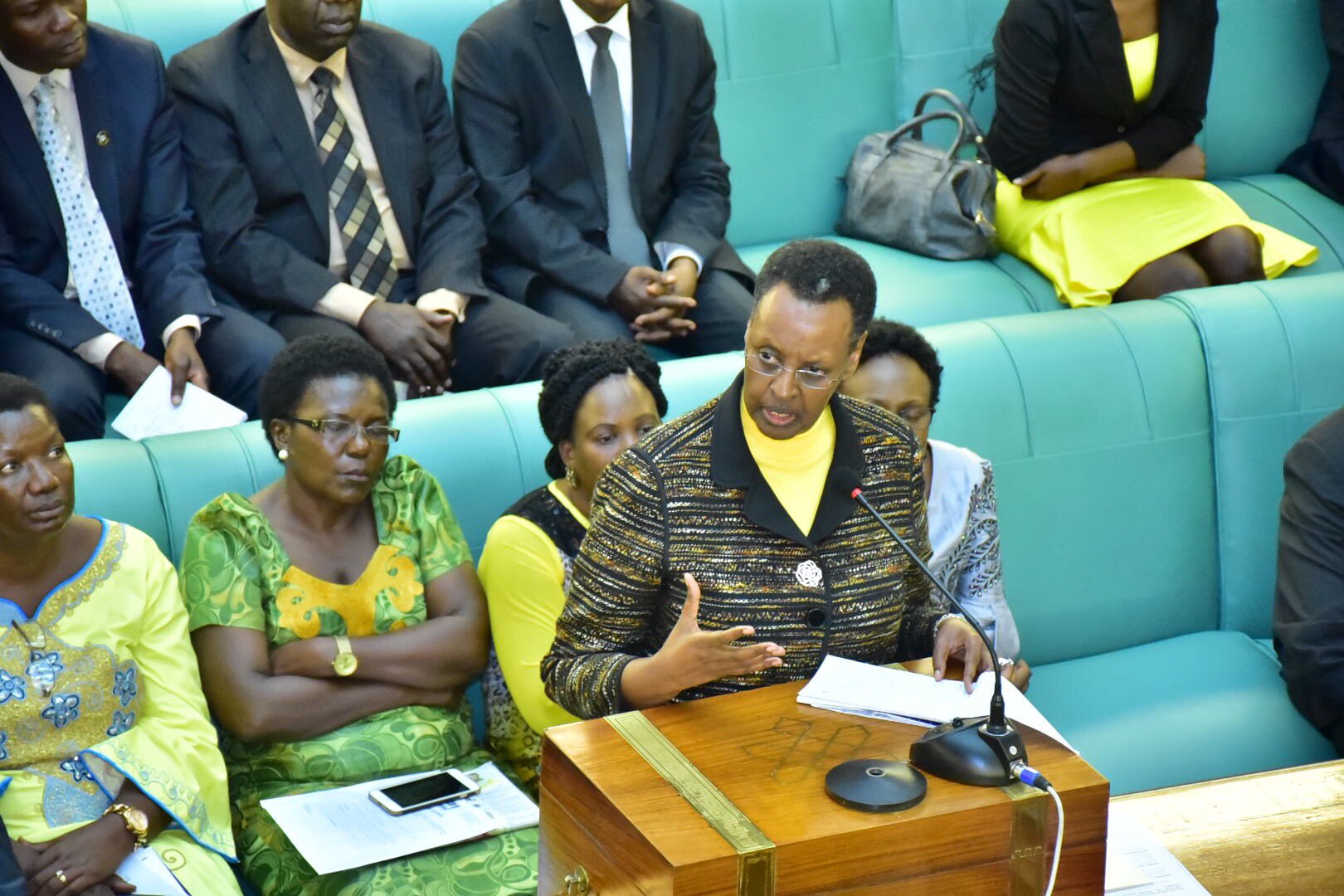 Buyaga West MP, Barnabas Tinkasimire said: "Abiriga carried a principle that I share – that is being honest. We loved one another. When I decided to do business in West Nile, it is Hon Abiriga that said 'I can get you a person who will not cheat you' ".
State Minister for Disaster Preparedness, Musa Ecweru told MPs that Abiriga's character had been moulded by his experience in exile. He said that while in exile, Abiriga suffered and was traumatized.
"He promised himself that as long as he lived, no person was supposed to live in exile again. He wanted to live in Uganda. He felt Museveni was the only person holding Uganda together and that is why he supported him," Ecweru said.
Jovah Kamateka (Mitooma Woman MP) who chairs the Human Rights Committee of Parliament on which Abiriga sat said that the deceased was a caring leader who minded a lot about decisions that would cause positive impact.
The special sitting was attended by the NRM; chief whip, Ruth Nankabirwa, Secretary General, Justine Kasule Lumumba, Women's League Chairperson, Lydia Wanyoto, President of the Democratic Party, Nobert Mao, leaders of the Uganda Muslims Supreme Council among others.
Abiriga's brother, his wife, Sijali Amina and children were also present in Parliament.
After the sitting, the body of late Abiriga was flown to Arua where he is expected to be buried on Monday.