African Wildlife Foundation, the largest Pan-African international conservation organization with a mission to ensure that wildlife and wild lands thrive in modern Africa has today donated a 27.8-hectare piece to Rwanda Development Board to expand Volcanoes National Park, a sanctuary for critically endangered mountain gorillas.
The park lies in northwestern Rwanda and borders Virunga National Park in the Democratic Republic of Congo and Mgahinga Gorilla National Park in Uganda.
This is the first time in over three decades that the Volcanoes National Park is being expanded. The park is relatively small covering 160 square kilometres. It stretches for 40km and at its narrowest point is only one kilometer wide (the border between Rwanda and DR Congo).
The donation seeks to deal with the challenge of limited park land which has caused severe conflict with farmers and making gorillas vulnerable to diseases, one of the greatest threats to this endangered species.
If mountain gorillas are going to survive in the long-term, the park must be strategically expanded, conservation experts say.
According to the 2011 census of mountain gorillas in the Virunga Massif- an area that spans Uganda, Rwanda and the Democratic Republic of the Congo, there was an estimated 880 individual gorillas, 480 in the Virunga Massif and 400 in Bwindi.
This represents an increase of 26.3% over the previous seven years, or an average growth rate of 3.7% per annum.
Conservationists say the increase in mountain gorillas has led to a key challenge like inadequate habitat and safeguarding the gorillas' survival, enough space for endangered species is essential, African Wildlife Foundation officials said.
Established in 1925, the park's mountain gorillas are listed as critically endangered by the International Union for Conservation of Nature (IUCN) and are only found in the Virunga Massif and in Bwindi Impenetrable National Park (Uganda).
"Today's donation to Volcanoes National Park is a major step in the consolidation of Rwanda's conservation gains for the benefit of communities today and future generations," said Clare Akamanzi, RDB Chief Executive Officer.
She said through gorilla conservation and tourism, the country is directly benefitting from these wonderful animals.
Akamanzi said mountain gorillas and Volcanoes National Park are an economic engine for the country, supporting social and community development, infrastructure, and other important protected areas in Rwanda.
African Wildlife Foundation President Kaddu Sebunya said Rwanda had distinguished itself as a leader in conservation following the most remarkable great ape recovery.
"I am excited by the great strides Rwanda is taking to develop its natural heritage sustainably and guarantee long-term socio-economic stability for its people. Through proactive government policies, community involvement and open governance, Rwanda is demonstrating that development and conservation are not mutually exclusive," Kaddu said.
He said such a win-win approach to conservation suggests that there is nothing inevitable about conservation challenges in Africa today.
The world's remaining mountain gorillas live in three countries spanning four national parks – Bwindi Impenetrable National Park, Mgahinga Gorilla National Park in Uganda, Volcanoes National Park in Rwanda, and Virunga National Park in Democratic Republic of Congo.
Last year, over USD1.28 million was distributed by RDB to more than 158 community-based projects through the Rwanda Revenue Share Program. This support will increase this year following the government's decision in 2017, to increase the Revenue Share Program from 5% to 10% of all tourism revenues.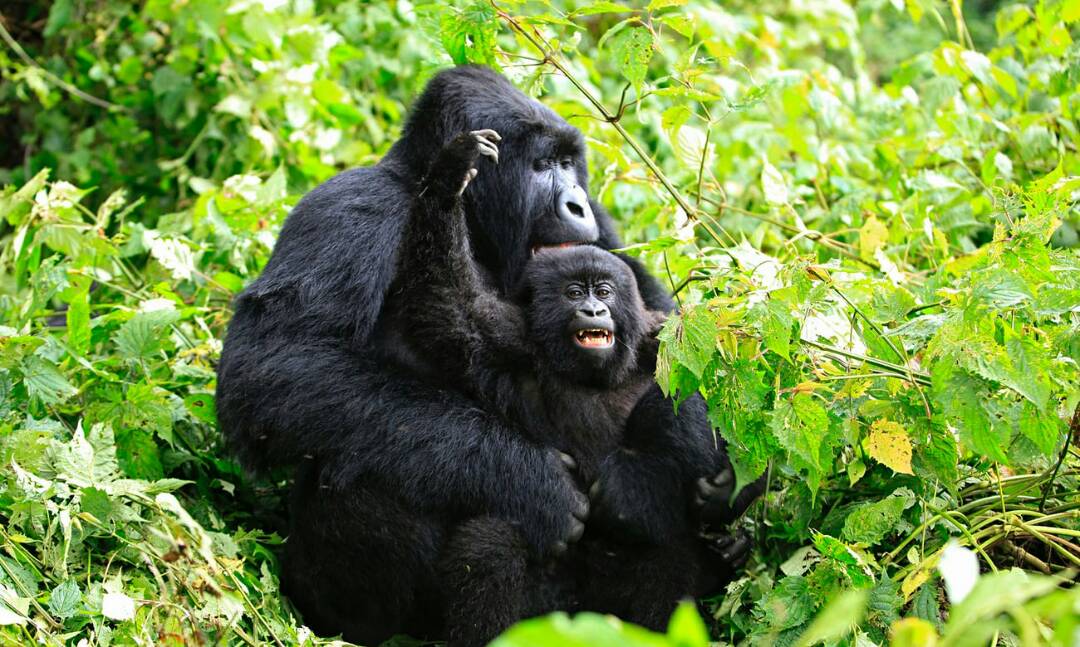 In addition, in partnership with fellow conservationists, over 700 community-based projects providing housing, schools, health clinics, water tanks have been provided for the communities living in the twelve sectors and four districts surrounding Volcanoes National Park, Akamanzi added.
In 2016, Volcanoes National Park generated USD16.4 million from park entry fees, supporting employment, community engagement and empowerment, livelihood development, social services and infrastructure development.
Visitor numbers have increased 82% since 2007, proving that there is an increasing demand to view mountain gorillas. Ensuring the park is viable in the long term is a priority for the government of Rwanda.