Life can be tormenting for people living with Albinism but enduring that trauma while at the same time bearing the burden that comes with fleeing your home to live as a refugee in a foreign land is too much despair to brave.
This the life the people living with Albinism inside the Nakivale Refugee settlement in Isingiro District in Western Uganda live through on a daily basis.
According to the government and the UN refugee agency, Nakivale Refugee Settlement is one of the one of the oldest refugee camps with about 100,000 refugees from across 8 countries in Africa.
SoftPower News met with Muhindo Rehema Fahida, 36, a mother of six who took us through her life struggle as a refugee and the burden she endures raising her three children who were born with Albinism.
"I have three children with Albinism; two boys and a girl. My first born was black and second white (albino) but after producing him, my whole world turned upside down," Rehema, a refugee from the Democratic Republic of Congo told us in an interview recently.
"This was the beginning of my struggles in this world," she added.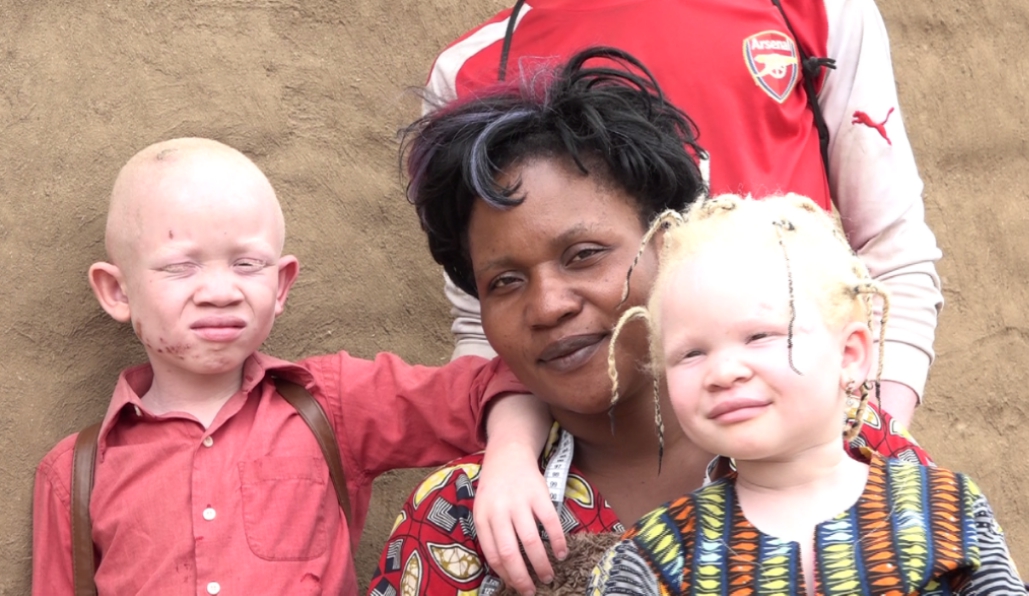 She was rejected by her own family including her inlwas. She was shunned by the neighbors and mocked for producing an Albino.
According to Rehema, life became very hard especially having to withstand all sorts of abuse and ridicule from the community simply for having given birth to a kid with albinism. It was as though it was a taboo to produce a kid with Albinism.
The myth associated with albinism cuts almost across all African countries and beyond. The difference is that in some regions like East Africa, the perception towards Albinism tends to be quite harsher and risky. Many Albinos have been persecuted and killed for their skin colour.
Unfortunately, some people still believe that Albinos possess some sort of magical source of wealth, which is why many have lost their lives in ritual sacrifices.
Inside Nakivale refugee camp, we met a number of people with Albinism from Congo, Burundi, Ethiopia and Rwanda who shared stories similar to that of Rehema. Stories of ill treatment, stigma and total lack of support as a special group in this locality.
Rehema says the woes of people with albinism have been further worsened by the myth that Albinos are ghosts. People are scared of them and want to harm them whenever they walk at night, she says.
Others believe that Albinos disappear in the thin air whenever they want while others associate them with the devil. It is these misconceptions that pose a serious threat to people living with Albinism.
Just like most people with Albinism, the over 70 Albinos we met at the camp had problems with their sight.
"When you look closely into the eyes of a person with albinism you will see it running in all direction" said Rehema, referring to Nystagmus, an irregular rapid movement of the eyes back and forth, or in circular motion.
Her child is no stranger to this problem, yet the mother has no way out of it.  All her three children are short sighted and this has heavily affected their performance academically.
The camp lacks adequate supply of clean water since the available bore hole is overwhelmed by the huge number of refugees that occupy Nakivale. But that isn't all she has to worry about. The water from the borehole is salty and hard, which isn't suitable for either her skin or that of her children.
"We have no option. We have to use the hard water here, but this is affecting the skins of my children. They keep developing rush and small pores on their skins and we are scared this may turn out to be cancerous in the long run," Rehema worries.
Much as she has lived in Nakivale for seven years, she is yet to come to terms with the reality and threats surrounding her life and that of her children.
Similar to Rehema's story is that of Marie Nyimba Safi, 32, another refugee from DRC and mother of two who was abandoned by her husband on realizing he had given birth to an Albino.
"His relatives called and told him I had given birth to a kid with Albinism, from then, he has never resurfaced. I don't know his whereabouts, we are fending on our own," said Maria as she broke into tears.
Life in the refugee camp, Marie says, has been a typical case of survival for the fittest as she has to toil to ensure that she can sustain her family. With all this load of responsibility on her shoulders, she is skeptical about the education of her son.
"My son goes through a hell of time every day at school. He is beaten by fellow colleagues. At one point, he was pierced to see if he truly has blood. He is afraid of going to school and I don't know how to help him out," Maria intimates. Her tone tells of despair.
Listening to her tales demystifies the wide spread lack of knowledge on Albinism, an inherited disease characterized by a substantially lower rate of melanin production responsible for the color of the skin, hair and eye.
Whereas people with Albinism can be produced by any national across the globe, back in Africa it is very prominent because of the vast majority being black. Their skin stands out and people can easily notice them in the crowd.
According to Marie, despite being beaten while at school, her son Sayuni has been teased and referred to as a pig, an insult she has failed to comprehend.
"As mothers, we are worried of giving birth to children with Albinism. My son Sayuni has attempted to commit suicide on three occasions, for being called a pig. He keeps on asking me why I produced him as an Albino," she says.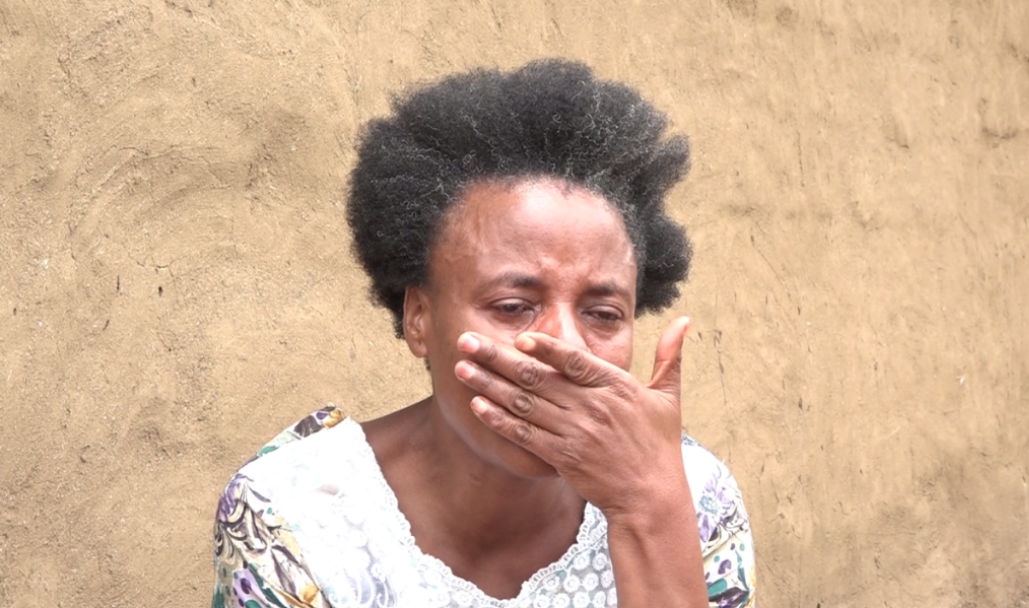 All she can afford is a word of consolation to her son, making him understand that this was not her making but God's. But how much longer these consolations can hold is another problem all together.
The 14-year-old Sayuni still resents the colour of his skin, the name calling and insults he continues to receive among his peers.
As a mother, Marie's heart bleeds in silence, with no one to turn to for solace. Life for her seems to have reached the climax with so many problems.
Even for the few who have got out of the shadows of stigma and discrimination in order to make ends meet still face stiff rejection. One such person is Agartha Riziki who fled violence in her home country, Burundi.
"I have tried doing business like selling tomatoes here in the camp but even then, people are not willing to buy them. Instead, they keep running away saying they can not buy anything from a pig," Agartha told SoftPower News in an interview.
Paul Musako, member of the Lions Aid International also a refugee from Rwanda presently residing at Nakivale settlement camp revealed that Albinos in the camp have enormous challenges as explained in some of the tales by Rehema, Agartha and Marie.
Musako however explained that as an organization, they were concerned with the sight issues and plans are underway to help those in need in due course.
The Uganda Refugee Response Monitoring Settlement Fact Sheet for Nakivale released on January 31 this year by government and UNHCR highlighted gaps in refugee protection such as burglary, sexual and gender based violence.
Such threats are widespread in the camp, the fact sheet revealed, with cases of violent assault perpetrated by other refugees and members of the host community which has continued to threaten the security of refugees, especially women, girls and the minority groups.
The report also cited challenges related to access to clean water and education as a stumbling block in trying to support the different refugee's lead dignified lives.
Nakivale Refugee settlement is one of the oldest refugee settlements camp in Uganda, opened in 1958 and officially established as a settlement in 1960.
The settlement hosts more than 100,000 refugees from Burundi, the Democratic Republic of Congo, Eritrea, Ethiopia, Rwanda, Somalia, Sudan, and South Sudan. During the Burundian crisis in 2015, the population of the settlement greatly increased.
Markets are bustling and food is available for purchase, but many refugees continue to grapple in dare poverty, they are unable to afford even the basic items they need most for their lives.