Suspended Uganda Investment Authority (UIA) Executive Director, Jolly Kaguhangire who on Wednesday defied her interdiction and refused to step down has finally been forced out of office by the board of directors led by Mr Emely Kugonza.
According to UIA officials, Mrs. Kaguhangire had eventually agreed to hand over office. However, she did not turn up on Friday afternoon forcing the officials to break into her offices and install the acting Executive Director, Basil Ajer who has been the Director of the Small and Medium Enterprises Division.
This followed the UIA Board Chairman's letter to Finance Minister Matia Kasaija seeking his intervention in Kaguhangire's refusal to vacate office and give way for investigations into various allegations made against her.
Mrs Kaguhangire had in a letter to the board chairman, Emely Kugonza vowed not to leave office on grounds that the board decision made by the 51st Board meeting on Tuesday 26 June was "invalid, ultra vires, illegal and incurably void."
She noted that the actions of the Board leading to her interdiction, contravened the laws and regulations governing the UIA and standard practice.
She also accused one Board member of having vested interest in her exit and it was inappropriate for the unnamed member to vote on the matter.
However, Kugonza refered to her grounds to refuse to vacate office as "falsifications and lies."
He said that Kaguhangire had attended the board's meeting which interdicted her and that her defiance of the board's decision had dented the image of the investment agency and paralysed work.
"Hon Minister, the refusal to vacate and hand over office by Mrs Jolly Kaguhangire has generated a lot of confusion at the Authority and is badly affecting our image as the preferred investment destination country," Kugonza stated in in his June 28 letter to the Minister.
"We humbly seek the intervention of your good office," he pleaded.
Speaking to SoftPower News on Thursday, Minister Kasaija termed Kaguhangire's defiance of the Board's decision to interdict her as indiscipline and advised her to go to court.
"I was informed by the board about her interdiction and I expected her to abide. Her refusal to step down shows that she is indisciplined. That is not good for her record as a public officer," Kasaija said and indicated that he would seek intervention by a higher authority if Kaguhangire continued to defy.
The Board interdicted Kaguhangire for, among others, alleged corruption, abuse of office, insubordination, lying to the Board and closure of the UIA office in Namanve industrial park without notifying authorities.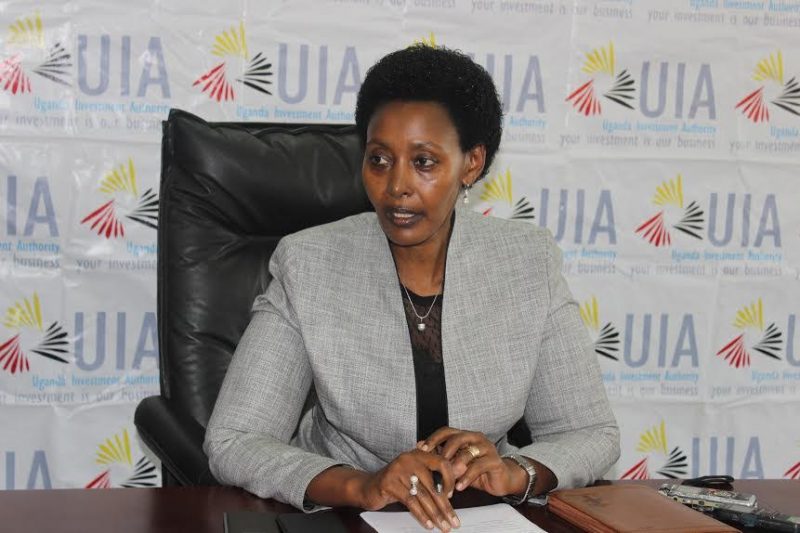 UIA officials have this afternoon forcefully broken into her office. The acting Executive Director had by 5 pm taken over office in a break-in overseen by the board members of UIA.
Evelyn Anite Weighs In
In a letter dated 24 May 2018, state minister for privatisation and investment, Anite Evelyn directed the Board Chairman Kugonza to respond to allegations of corruption during UIA's restructuring exercise, including interviewing lower level staff, such as drivers, tea girls and cleaners, and shortlisting and interviewing one candidate for the position of director.
"The Board intentionally excluded the competition by advertising the jobs internally and conducted the interviews, instead of hiring a competent independent firm to do the recruitment," she stated.
Minister Evelyn's letter further reads that "the directors and the board connived to obtain bribes from investors, sell industrial park land and extort investors, in exchange for facilitating their meetings with ministers and President Museveni.