The newly appointed Deputy Special Representative of the Chairperson of the African Union Commission for Somalia (D/SRCC), Hon. Simon Mulongo has toured sector one headquarters of the African Union Mission in Somalia (AMISOM) as part of his familiarization tour as he takes on the mantle of overseeing AMISOM operations in Somalia.
He was welcomed to the sector by the Uganda Contingent Commander Brig Muhanga Kayanja who briefed him on several issues, congratulated him upon his appointment and wished him good luck in his new role.
Brig Muhanga said that Somalia still has a lot of problems that need to be addressed, among them; persistent clan rivalry, land disputes and other economic conflicts especially at Marka port.
"These conflicts have made the situation more volatile as Al-Shabaab has for many times exploited them to launch attacks on AMISOM forces" he said.
Brig Muhanga also informed thr new D/SRCC that issues like lack of air capability, expanded area of operation visa vis inadequate number of personnel, and poor conditions of Infantry Fighting Vehicles (IFVs) continue to hamper AMISOM operations.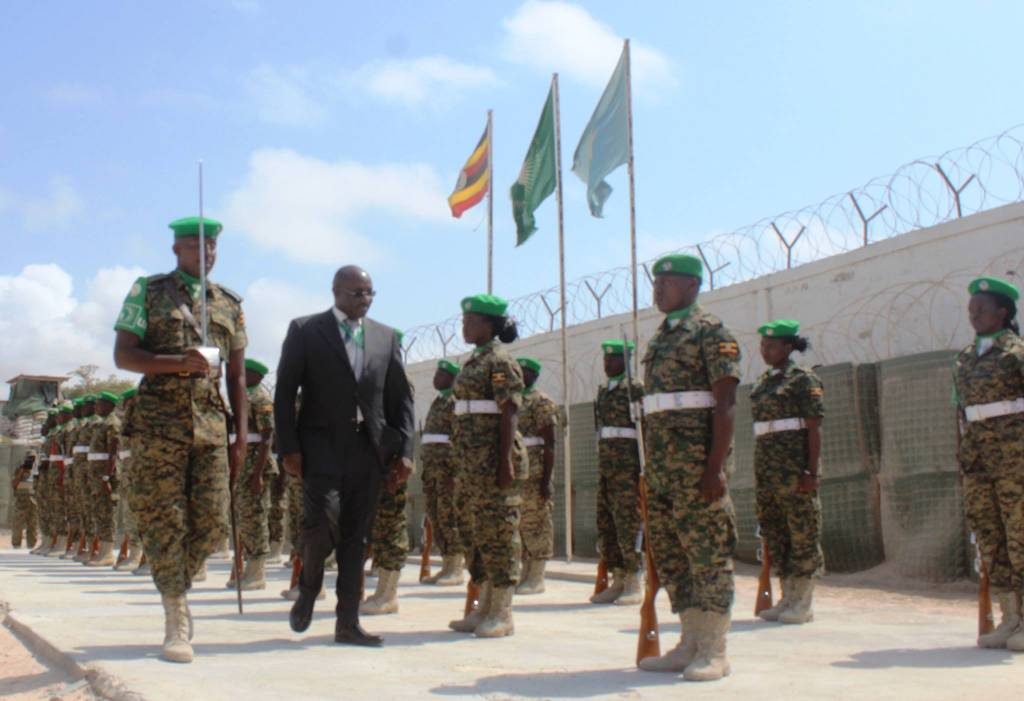 He also cited shortfalls in communication, poor road network, threat of Improvised Explosive Devices (IEDs) and inadequate defense stores to fortify own defensive positions among others.
Nevertheless, Brig Muhanga stated that the AMISOM has registered successes, among others, creating an enabling environment for the recent Somali general elections, capturing Mogadishu and key towns of Marka, Afogoye, Barawe from Al-Shabaab, as well as the relocation of all partners including UN agencies from Nairobi to Mogadishu where they hitherto operated from.
In his remarks the D/SRCC lauded the troops for the Pan-African Spirit exhibited in Somalia, and also gave credit to the UN and world leaders for facilitating the efforts to have AMISOM in place.
Mulongo hailed the UPDF whose deployment in 2007 became pivotal in restoring a semblance of peace, stability and legitimate governance visible today.
He urged the troops not to be derailed by critics who often lodge allegations against them without knowledge of the dynamics and technicalities involved in the operations.
He stressed the need to strike a balance between phasing out the AMISOM mission while also ensuring that Somalia as a country is capable of taking full control of the security of the Somali people.
"TCCs and partners must sit and review the exit plan very well so that we don't see another Somalia failed State only two days after our exit," Mulongo said.